This post brought to you by Atlantic Luggage. All opinions are 100% mine.
People look for a lot of different things when they travel. Some look to relax. some look for attractions.Some look for food. Many look for a combination of multiple things. I know a few people who enjoying the food on a vacation so much that their clothes didn't fit and they had to buy new ones! Now at home if this happened it wouldn't be a big deal. But on vacation you have a suitcase to think about. Solution? Get a suitcase that, like certain clothes, is expandable.
The Atlantic® Lumina™ collection is hardside luggage with expansion capability. You might be thinking that since it's hardside luggage it's expensive. This versatile luggage is actually quite affordable. Woot! That leaves more money for dining out! This hardside piece has a unique polyurethane finish on a sculpted hard shell. Instead of looking industrial like some hardside, these pieces look quite lovely. Beneath the satin shell lies an expandable packing compartment. That's how you'll get those extra clothes home! The pieces have a dual-wheel spinner system that makes them easy to maneuver, which will be very helpful when you are feeling full and trying to dash across the aurport to catch your flight.
Like all Atlantic Luggage, this collection is designed and priced with families in mind. It's lightweight, stylish and functional, making it a great value. The luggage is reliable but if it helps your peace of mind you might appreciate knowing that the collection comes from a company that's been around since 1919 and has a 10-year limited warranty. Products can be purchased at www.AtlanticLuggage.com.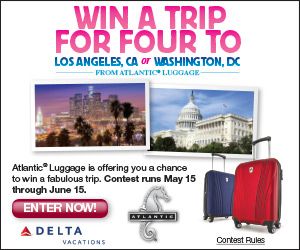 Would you like to win a family trip for 4? Atlantic Luggage invites you to enter their "Win a family trip for 4" sweepstakes! The winner of this sweepstakes will receive a family vacation for four to either Los Angeles, CA or Washington, DC!!! The trip includes airfare, hotel, $300 activity allowance, and four pieces of Atlantic luggage. That's a sweet prize!
All you need to do to enter is go to http://www.atlanticluggage.com/spring-sweepstakes-2014/ and submit your name, phone, zip code and email. That's it!
Some friends told me that if you go to LA you don't want to miss certain foods well known in the area including California rolls, sushi and Mexican food. Another friend told me that if you go to DC you don't want to miss Chesapeake Bay crabs/crab cakes.
Would you choose to go to Los Angeles, CA or Washington, DC if you won the Atlantic Luggage Spring Sweepstakes?